This is the first post, hopefully of many more, so the vinyl rip may not be the best as it's the first time I've done it and I need to do some trial and error to get it right. I'm using the line out of my receiver and recording/cutting with garage band. If anyone has any good tips to get it sounding quality with garage band let me know. All mp3's are going to be 320 KBS with VBR to try and preserve the quality of the record (although we all know it can never match the true quality and sound of the vinyl).
OK, onto the tunes. This is a compilation I picked up for $5 dollars at Goner Records during my recent road trip to Memphis. It's called Murray the K Presents and all the songs are live. Side A of the record is not really worth noting, it contains songs from Vanilla Fudge, Bee Gees, Rascals, Janis Ian and The Blues Project and all are forgettable performances at best. The B Side of the record is another story and the reason I risked my 5 dollars on this investment. The artists on the B side are as follows; Joe Tex, The Shangri-LA's, The Royalettes, Deon Jackson.
The two Joe Tex songs are unreal, because of two factors; his performance, which is top notch, and the reaction from the teenage girls in the crowd. The girls absolutely lose their minds before, during and after his performance--it's awesome. The Shangri-LA's song "I Can Never Go Home Any More", which apparently live material from them is scarace, is another grade A performance. Lastly The Royalettes and Deon Jackson songs are pretty damn good, although I didn't know much about either artist going into the purchase.
I don't have a scanner that is big enough for LP covers so pictures from my digital camera will have to do.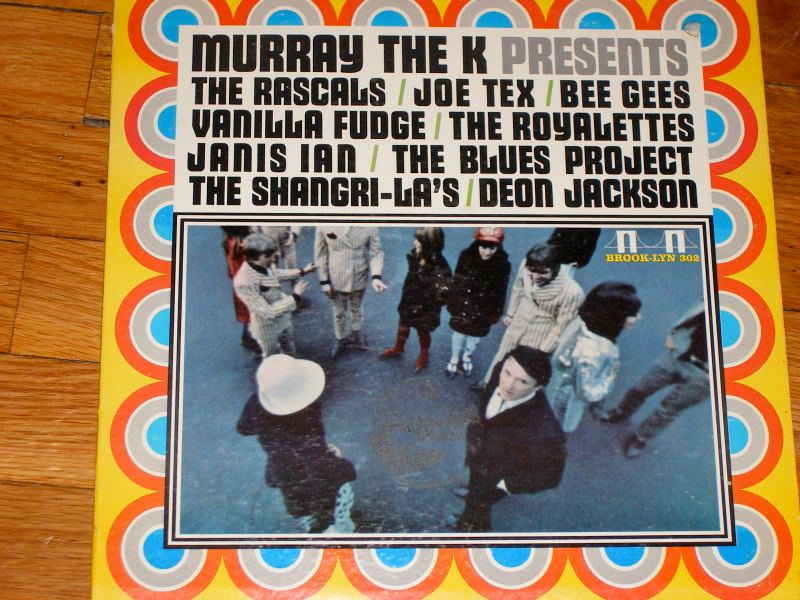 and finally the link for the tunes;
Murray the K Presents